The LLP shall go through the process of voluntary winding up.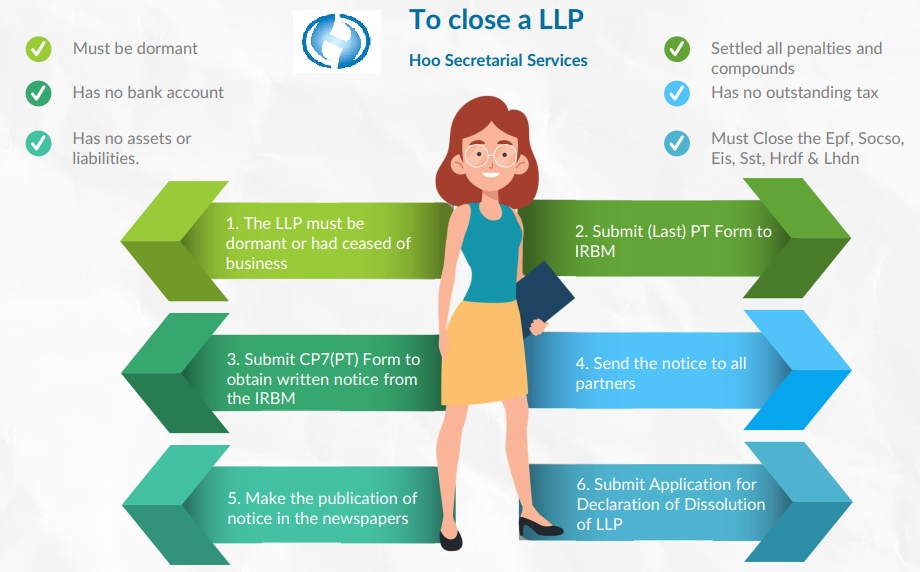 At the point of applying for voluntary winding up, the LLP: –
Must be dormant, i.e., neither carrying on a business nor operations. Even if the LLP was in operations in the past, it is most important that at the point of application, the LLP is already dormant.
Has no bank account. Again, even if the LLP has bank accounts previously, all bank accounts have to be closed before proceeding with the application.
Has no assets or liabilities. All assets would have been written off, and all liabilities have been settled or waived by the creditors, before the application. Ideally, the balance sheet will be showing the cash in hand amount to be the same as the capital contribution.
Settled all penalties and compounds under the Limited Liability Partnerships Act 2012.
Has no outstanding tax or other liabilities with any government department or agency.
Must Close the Epf, Socso, Eis, Sst, Hrdf & *Lhdn (Form LLP & E account)
Please Contact us
013-9319130
[email protected]
Guideline For Declaration of Dissolution in a Voluntary Winding Up of a Limited Liability Partnership (LLP)
Step by step guide as provided below before the application for a declaration of dissolution is made to the Registrar (SSM): –
Step 1: – The LLP must be dormant or had ceased of business, no bank account, no assets and liabilities, settled all compounds and close the Epf, Socso, Eis, Sst, Hrdf.
Step 2: – Submit (Last) PT Form to Inland Revenue Board of Malaysia (IRBM)
Step 3: – Submit CP7(PT) Form to obtain written notice from the IRBM to the effect that it has no objection to the Registrar making a declaration of dissolution of the LLP.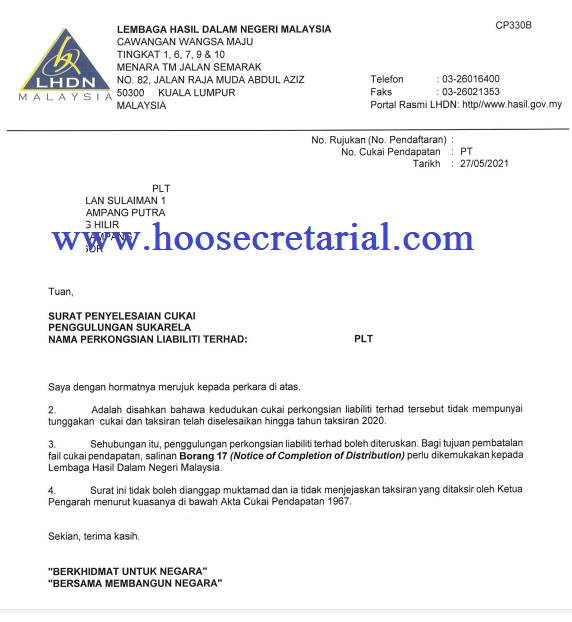 Step 4: – Send the notice to all partners
Step 5: – Make the publication of notice in the newspapers (Malay and English)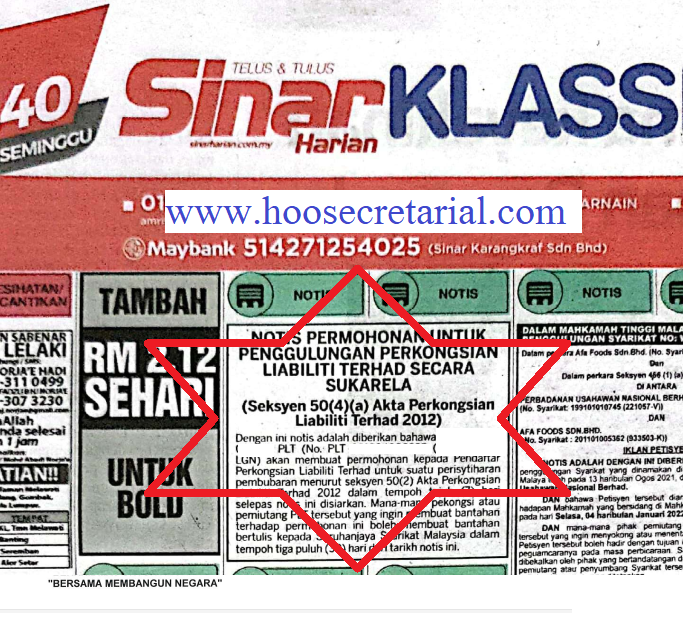 Step 6: – Submit Application for Declaration of Dissolution of LLP
Step 7: – Submit Application for close PT Form to IRBM
Engage us and we will assist you to dissolve (close down) your LLP quick and simple way.
How much does it cost to close down LLP?
Our fee for assisting in winding-up of LLP is RM4,500 including advertisement fee and fee payable to SSM. If you need our assistance to obtain the CP7(PT) Form from IRBM, our fee is from RM500.
Please Contact us
013-9319130
[email protected]
Are you looking for REGISTER NEW LLP – PACKAGE? Please call us to know more!